Article continues below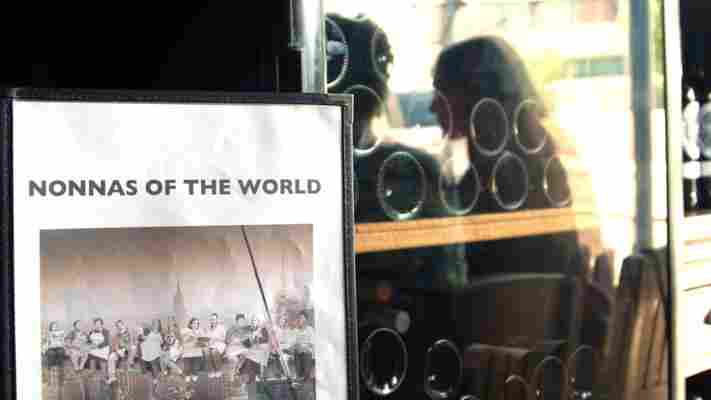 (Credit: Sebastian Diaz)
When you first walk in, Enoteca Maria doesn't seem that remarkable. The small restaurant could be just another local Italian restaurant in St George, a sleepy Staten Island neighbourhood that looks across the water to Brooklyn, New York. But on an early Thursday afternoon in June, after most of the lunchtime diners have finished their food, one of the chefs comes out from a hidden kitchen in the basement. Half of the restaurant starts applauding, and a family of four get up to give her a hug, one by one. Someone from another table asks for a selfie, which is graciously granted.
The chef is Adelina Orazzo, who – like all the chefs at Enoteca Maria – is a grandmother, or nonna in Italian. With her bandana and no-fuss demeanour, she shares the family recipes she's learned since she grew up in a village near Naples. She's worked at Enoteca Maria since it opened in 2007, and said: "I have found a whole new family here".
While Nonna Adelina oversees the regular Italian portion of the menu, tonight she's joined by Turkish Nonna Fatima Polat, who is patiently preparing her signature beef kofte (spiced Turkish meatballs), sigara boregi (cigar-shaped filo pastries) and imam bayildi , a Turkish dish of fried aubergine simmered in a rich tomato sauce. Each night, a different guest nonna cooks, bringing not just the food of their respective countries to Enoteca Maria's tables, but also dishes from their own family recipe books, passed down through generations. The grandmas might be Armenian, Argentinian or Algerian, but the principle is the same: they'll cook as if they are cooking for their own family.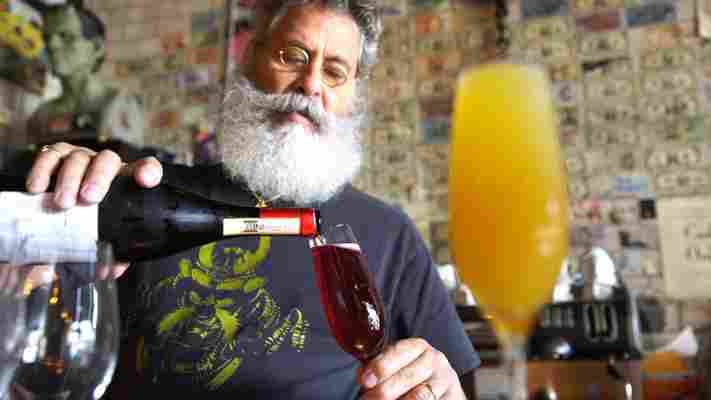 (Credit: Sebastian Diaz)
Enoteca Maria is the brainchild of Jody Scaravella, who goes by Joe, a 62-year-old with a grey handlebar moustache and darting, bespectacled eyes. He opened the restaurant in 2007 as a form of therapy as much as a business idea. He'd been working for New York's transport authority and had lost his mother, sister and grandmother in relatively quick succession. This, he said, "was my way of replacing what I'd lost".
Scaravella was raised in Brooklyn by a Sicilian mother and a father from Piacenza, in northern Italy. His earliest memories are of Sunday lunch at his nonna's house. "I can still see the paisley couch and my grandfather drinking Scotch in his old chair, and I can still smell her cooking," he said. "This place is built on that idea: of being safe and sound, of being home. And, of course, eating nonna's amazing food."
When Enoteca Maria opened, Scaravella had an idea he believed in, but no experience of running a restaurant. With exclusively Italian nonnas in the kitchen at the beginning, he didn't just need to grapple with logistics, but also "the drama of having all these [alphas] in one room… women who were used to being at the top of their family pyramid – there were a lot of loud voices."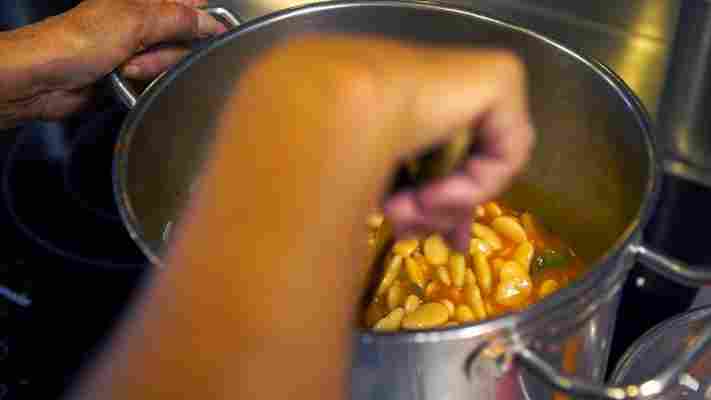 (Credit: Sebastian Diaz)
In some ways, the restaurant is a tribute to my own Italian grandmother," said Scaravella.
(Credit: Myles Pritchard)
No-nonsense Nonna Adelina was one of Scaravella's first hires, and he said she is still very protective of her food knowledge. "Growing up poor in Italy, cooking was about more than just putting food on the table," he said. "It was about survival, and pride."
After serving us one of her masterful lasagnes for lunch, Nonna Adelina explained in halting English that she learnt to cook from her mother and grandmother. She first learned peasant dishes like pasta e fagioli (pasta and beans) or sheep's head, and Scaravella said she's fastidious about not throwing any food away. "My food comes from here," Adelina said, pointing to her heart.
She moved to Brooklyn from a small village near Naples in 1990, when her then-husband and his brother took jobs as waiters. She'd been cooking at home for her six children and four grandchildren in 2006, when she saw an advert in the local newspaper seeking Italian nonnas, and became one of the first people in Scaravella's kitchen.
(Credit: Myles Pritchard)
On Sunday, I always make a big meal: appetisers, lasagne, ravioli, the whole lot. It feels the same cooking here. People come up and give me hugs and kisses, it's like my new family," Nonna Adelina said.
(Credit: Myles Pritchard)
Three years ago, with his Italian nonnas up to speed, people from different countries kept sharing stories of their own family cooking traditions. So Scaravella came up with the idea of inviting a different international nonna each night, who would cook up a few of her favourite dishes in the simple open kitchen upstairs.
In July 2015, Nonna Nargis from Lahore, Pakistan, became his first non-Italian guest chef. Now, a different international nonna cooks every evening from Thursday to Sunday, when the restaurant is open. Most work one evening a month. As Scaravella said, "there has to be an authenticity about them and their relationship with the dishes. When you meet the ladies that have that, you just know, even if you can't speak the same language."
Nonnas of the World has become a curious sort of brand, spawning recipe books and an e-book . Scaravella has plans to start an online shop selling food products hand-picked by the nonnas who work at Enoteca Maria.
(Credit: Sebastian Diaz)
Each of the nonnas has her own rich story that is about much more than just food. For Ploumitsa Zimnis, a grandmother from the Greek island of Chios, working at Enoteca Maria has helped her come to terms with losing her husband. She started working here in September 2016, after her husband's death that summer. "It was my husband who taught me to cook," she said. "This has helped me continue what we had. It has kept me going."
Zimnis didn't learn to cook until after she arrived in the US, aged 24. "It was a way of reconnecting with home," she said. "My husband would teach me, and my mother would send letters with recipes for dishes like Chios seafood stew, stuffed squash or mamoulia cookies."
It was her daughter Maria who first spotted an advert in the local newspaper for a grandma chef. "My mum had always been so full of energy and joy, but after our father died, I was scared that she wouldn't bounce back," she said. "But then I saw that advert, and saw that the restaurant is in a neighbourhood called St George, which is the same name as my parents' village in Chios. It felt like fate."
On her first shift, Zimnis was nervous. "I'd never cooked for so many people before," she said. "But I remember meeting Nonna Adelina, and it was like we'd known each other for years. And I remember coming out of the kitchen, and seeing the diners so happy. It was like coming out of the kitchen at home, and seeing my own family."
(Credit: Myles Pritchard)
In the little open kitchen by Enoteca Maria's bar, Nonna Fatima takes a short break from preparing her şekerpare , moist semolina cookies with syrup.
Originally from Ankara, Turkey, she has lived in New York City since 1995, and at 44, is one the youngest nonnas at Enoteca Maria. When she started in early 2016, she was amazed by the attention from diners. "There were so many hugs, so many selfies. I was like: Who? Me?"
(Credit: Myles Pritchard)
Suzi Ziegler, who lives on the same block as the restaurant, came to Enoteca Maria one day when she needed a wine opener for a party. She was stressed, but said she fell in love with the restaurant. "Joe just said, Come and sit down," she recalled. "There was just such a nice energy about the place."
Ziegler, a San Francisco native, works as a fashion forecaster in Manhattan's Garment District, and used to be a wine writer. But every Thursday, she takes a day off to wait lunchtime tables at Enoteca Maria. "There's just this very real sense of bringing love to peoples' tables," she said. "It's my happy place, and I'm passionately in love with it."
(Credit: Myles Pritchard)
Scaravella's story might one day make it to a big screen near you. He has already sold the rights to a movie of his life to producer Jack Turner, who was the executive producer on interracial drama Loving, released in 2016.
While very little is confirmed, Scaravella has an idea of how he'd see the opening scene: it would be him as a child, strolling the Italian food markets of 86th Street in south Brooklyn, holding hands with his nonna, who he hopes might be played by Sophia Loren. "This began with something very personal," he said. "It's become something much bigger than that."
(Text by Toby Skinner; video by Sebastian Diaz and Anna Pazos; photos Sebastian Diaz and by Myles Pritchard)