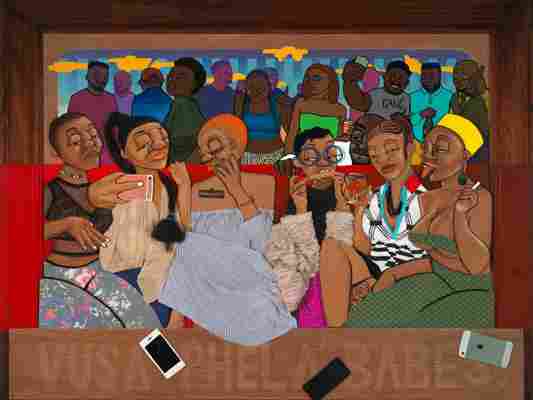 He stands more than seven feet tall, with piercing eyes that seem almost alive, staring through the souls of entranced visitors into the future. The statue, Toussant Louverture et la vielle esclave (Toussant Louverture and the Elderly Slave), commands the room, sending out a powerful vibe that is tangible and tactile.
"This is one of the masterpieces of our contemporary collection," explains curator Kevin Dumouchelle . "I sort of frame it as our own Statue of Liberty here in the middle of the exhibition."
Dumouchelle built the exhibition, " Heroes: Principles of African Greatness ," now on view at the Smithsonian's National Museum of African Art, around this powerful piece. The show features nearly 50 works by classical and contemporary artists from 15 African countries that weave a tale of heroic principles and people in Africa's history. Visitors are meant to consider core values ranging from justice and pride to honor and piety. Each work is paired with an African historical hero—or heroine—whose lives embody battles for freedom and leadership. Every piece is given a label, such as honor, independent, or woke, to illustrate the values these leaders showed in their lives and accomplishments. The statue of Toussaint Louverture, by the late Senegalese sculptor Ousmane Sow , is Liberty.
"Sow developed this very idiosyncratic, personal sort of sculptural style, building heroic, monumental, larger than life figures . . . out of a sort of iron sculpture covered in fiberglass and cotton that is fundamentally built by wrapping pieces of textile in earth and adhesives and pigments and a variety of other stuff," Dumouchelle says. "Louverture was the leader who helped crystalize what became the Haitian Revolution , throwing off the French rule of the island then known as Saint-Domingue."
For museum director Gus Casely-Hayford , one of the most compelling pieces in the show is a work by the legendary coffin sculptor Paa Joe of Ghana called Fort William-Anomabu .
"It is affecting in a variety of ways because it is a coffin, but it is also a depiction of one of the slave castles as well," explains Casely-Hayford, who is focused on the message the heroes and artists deliver to visitors to the exhibition.
The fort , in Ghana, was among several European structures built on what was then known as the Gold Coast. But it was also one of the only ones to have a prison purposely built inside to hold enslaved people awaiting transport to the Americas. It was the center of the British slave market until 1807. Paa Joe's piece, labeled as Witness in this exhibition, greets visitors as they enter, and Casely-Hayford calls it one of his most poignant works.
"This is a coffin, but you think of its connections to lost histories as well as lost lives, but then, if you can, imagine this being about one particular person as well and one family as well as their loss," the museum director says. "I just think the ways in which those sorts of layers of interpretation of loss stories is something that we can all relate to. This institution was created to try to address some of that—that we come from a place of sharing that loss as peoples of African descent. But there are places like this in which we are actually trying to find ways of navigating our way back."
Curator Dumouchelle explains that the museum is tying the idea of the coffin as a witness and memorial to the lost history of the enslaved Africans imprisoned in the fort. The hero connected with it, is writer, composer and abolitionist Ignatius Sancho . He wrote a number of powerful letters that became one of the earliest records in the English language of the horrors of the slave trade.
"Sancho was born on a slave ship off the cost of the Caribbean and through a number of remarkable events, found his way to Britain as a young man," Dumouchelle says. "He found his way to freedom, and eventually opened his own shop in Westminster and became famously the first person of color to vote for Parliament in the early 18th century."
An incredibly graceful statue, called Africa Dances depicts a woman caught in the midst of a powerful performance. Labeled Dignity, the piece by Nigerian artist Benedict Enwonwu is part of a series begun in 1949. The light flows like water off the cold-cast resin, predecessor to a 1982 bronze casting. It is believed to have been painted by the artist to see just how that would look.
"Enwonwu was a major pioneer in the development of modernism in 20th century Nigeria. . . . He looked to this idea of a beautiful young woman standing and rising on her own two feet and celebrating herself, celebrating her own dignity in life as an emblem in a way of the mid-century moment in Africa," Dumouchelle says.
In this case, the museum connected the idea of dignity to South African singer Miriam Makeba , who became a global superstar and inspired activists around the world.
"In the mid-20th century, she became an icon, known as Mama Afrika, of Africa rising, of African independence movements," Dumouchelle explains. "She actually sang at the independence celebrations of a number of difference sub-Saharan African countries in the 1960s and 70s, and moved throughout these countries in the 60s, 70s and 80s when she was banned from her native South Africa by the apartheid government of that time."
There are a number of striking works on display in this exhibition, including a painting by Nelson Mandela , labeled Revolutionary and created by the former South African President on a return to Robben Island where he was once imprisoned. Under the label Pride, is a mixed media painting called AMA #WCW . The gender nonconforming South African artist Dada Khanyisa created a portrait of six young woman enjoying cocktails, complete with hair extensions and jewelry on the surface, with smartphones embedded in the work.
But one of the most interesting things about Heroes is its attempt to focus on both the past and look towards the future, partly through a Smithsonian-developed, web-based Hi app . First developed for the Hirshhorn Museum and Sculpture Garden , the app doesn't require downloading, and offers visitors an added layer of digital content including images and key facts connecting the artwork to their corresponding "heroes in history." Museum director Casely-Hayford recorded some 40 videos for the app. There's a music playlist as well on Spotify.
"I am so thrilled that we have these technologies. It will mean that we can create a whole new layer of interpretation on these really powerful objects," says Casely-Hayford, who adds that not only can people come into the museum and read the traditional written interpretation, now they can go deeper in a way he thinks will thrill and engage younger people. "You can of course read the labels, but then you can choose to engage through these digital interfaces in new layers of reconsidering these works and giving them a wider, broader, deeper and I think more emotionally complex set of channels."
Casely-Hayford says this exhibition gives people a chance to get close to histories that have been obscured for all sorts of terrible reasons. He thinks the National Museum of African Art is here for both the celebration of great art, but also for the celebration of those African stories that have been neglected for far too long.
"These stories are against all odds," Casely-Hayford says. "They're about people who manage to somehow triumph against what seems like an impossible situation. They've done incredible things, and they are things that have changed the way in which we see Africa."
Currently, to support the effort to contain the spread of COVID-19, all Smithsonian museums in Washington, D.C. and in New York City, as well as the National Zoo, are temporarily closed. Check listings for updates. " Heroes: Principles of African Greatness " was scheduled to remain on view indefinitely at the Smithsonian's National Museum of African Art.
Artist Pat Steir Turns the Hirshhorn Into a Massive Color Wheel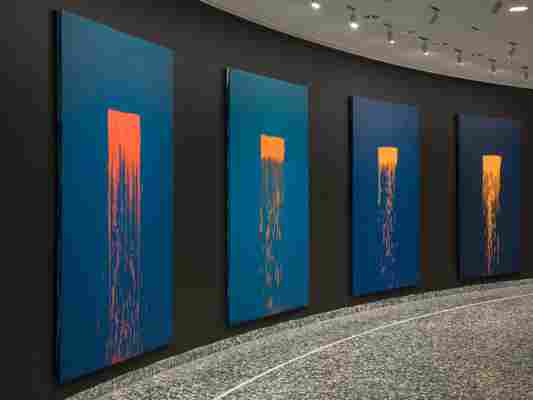 Pat Steir's color wheel is not the flat, carefully measured disk used to teach children the difference between primary and secondary colors. It's an immersive, larger-than-life collection of 30 canvasses, each dressed with layers of paint rich in texture and vibrancy. Each canvas seems a masterpiece in and of itself, but as one traverses the circular hallway where they are hanging, the full wheel is revealed, taking the viewer on a journey through a rainbow of Steir's design.
"Pat Steir: Color Wheel," which recently opened at the Smithsonian's Hirshhorn Museum and Sculpture Garden, is a piece the museum commissioned to make use of the building's iconic circular form. (Designed by the Pritzker Prize-winning architect, Gordon Bunshaft, the Hirshhorn has been playfully referred to as a "Brutalist donut.") At 400 linear feet and traversing the inner circle gallery, Color Wheel is Steir's largest site-specific installation to date.
"My thought was, why not give her this space and see what she can do?" says Evelyn Hankins, senior curator at the Hirshhorn, who oversaw the show. "She's at a point in her career where she was ready to create a really large, important project."
For more than 40 years, Steir has made abstract paintings using the signature technique she employs in Color Wheel . To create her works, Steir vertically mounts her canvases and standing on the studio floor or a ladder, pours or throws the paint. Using a dripping technique, she says, is not "macho enough" for her, preferring instead to fling it with powerful strokes or pour it deliberately. Oftentimes, after a day of working on a canvas, she says she returns to the studio the next morning impressed and surprised at how the paint settled.
"By pouring or throwing the paint, I take myself out of the painting. But there's always intention in setting limits," Steir says. "I'm not totally out of it, but I'm not using it to express myself. I really believe that if you're looking for a means of self-expression, you should see a therapist. That's not the purpose of art."
Inspired by artists like John Cage and Merce Cunningham, Steir heavily considers the role of chance in creating her work, surrendering some control to the force of gravity on the paint's path. Rather than limit her artwork to specific imagery, she relies on abstraction, opening it up to the viewer's interpretations. Still, she doesn't label her paintings solely as abstractions nor figurative pieces. For instance, though her acclaimed "Waterfall" series are non-pictorial, they draw on Japanese landscape brush paintings whose depictions of cascading water resembles the flow of paint on Steir's canvases.
"The willingness to open up the paintings for figurative references is okay," Hankins says. "That's why she called her paintings 'waterfalls' for so many years. If she was going to be an artist who had said, 'I only make abstractions,' she would have shut down the possibilities through her use of titles."
In Color Wheel , though each canvas is merely one component of the collective work, they are uniquely nuanced. "They are all the same and not alike," Steir says.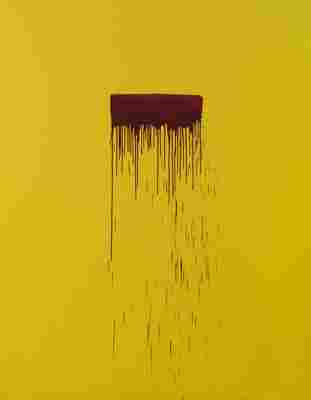 Originally created by Isaac Newton, the color wheel is a traditionally scientific illustration of the way different hues relate to each other. Steir nixes science to craft a wheel that reflects her own perception of color. Her version orders canvases washed with the primary color transitioning from red to purple counter-clockwise around the viewing space. The color of each canvas is juxtaposed with a swipe of its complementary color, the excess of which drips down in bright strands.
To create the perfect hues, Steir began by painting her canvasses with a green color that she says pushes light out, much like sepia tones in old photographs do. Onto the canvas she poured between four and eleven layers of oil paint which are made nearly transparent with thinners and binders. The canvases are left unframed, the sides baring evidence of the work's many paint layers.
As with every exhibition, this one posed unique challenges. The circular gallery was not constructed to exhibit paintings, so the curatorial team had to make dramatic changing to the lighting, including blacking out excess light from the gallery's interior windows and adding light fixtures. In a last-minute addition, Steir decided to include two black and white canvasses to bookend the piece.
"We will do whatever we can to realize the artist's vision as long as we're able to," Hankins says.
At the age of 79, Steir still spends most days working in the studio, coloring her canvases with the help of her assistants and an automated forklift (she stopped using a 10-foot ladder after a fall in her kitchen last year).
"I wouldn't call it a climax, I wouldn't call it a summation," Hankins says. "It was just an opportunity for her to create work that puts very clearly out there what she's been working on and what she's been thinking about for decades—this idea that painting could be a conceptual practice."
And, Hankins adds, it's a treat to show the work of such a monumental artist. "She's the real deal."
"Pat Steir: Color Wheel" is on view at the Hirshhorn Museum and Sculpture Garden through September 7, 2020
Twenty Smithsonian Shows to See in 2020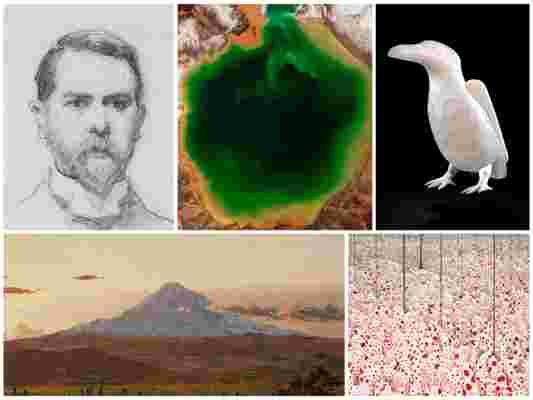 The new decade brings with it scores of new exhibitions at museums across the Smithsonian Institution in Washington, D.C. and in New York City. Many continue to mark the centenary of women's suffrage; others expand views from other cultures and traditions. The 150th anniversary of professional baseball brings a couple of shows examining its cultural impact. And there's something of a sequel to a blockbuster—Yayoi Kusama's record-breaking exhibition at the Hirshhorn Museum and Sculpture Garden. Here's a preview look at 20 of the Smithsonian's new shows opening this year.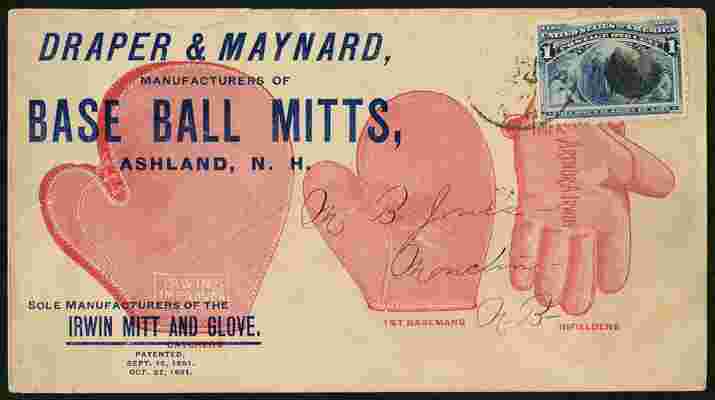 At the National Postal Museum, the first of two big Smithsonian exhibitions this year that will embrace the national pastime will feature hundreds of U.S. and international stamps commemorating the sport's finest players, augmented by dozens of objects loaned by other Smithsonian museums and the National Baseball Hall of Fame . Organized in celebration of the 150th anniversary of professional baseball, this exhibition "Baseball: America's Home Run" features historic objects, some of which have never before been on public display. ( June 27, 2020 through January 8, 2023)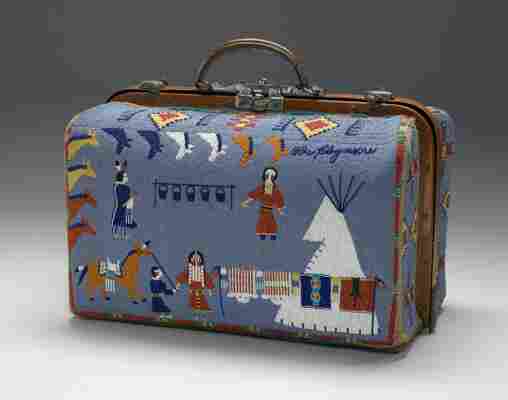 The first major exhibition to explore the artistic achievements of Native women, "Hearts of Our People" includes more than 80 works of textiles and decorative arts to photography, sculpture and time-based media, dating from ancient times to the present, and stressing the collaborative process. Organized by the Minneapolis Institute of Art , the Washington, D.C. stop at the Smithsonian American Art Museum's Renwick Gallery is third on a tour that will also bring the show to Tulsa. ( February 21 through May 17, 2020)
The first exhibition in 50 years of John Singer Sargent' s drawings marks the time when he abandoned oil painting at the height of his success in 1907 to explore the possibilities of charcoal. He did so in part because he could more quickly meet the demands on him as a portraitist. Among the faces are the artistic—from William Butler Yeats to actress Ethel Barrymore. But there are also views of heiresses from Gertrude Vanderbilt Whitney and Sybil Sassoon. Billed as a once-in-a-lifetime exhibition, "Portraits in Charcoal" at the National Portrait Gallery in collaboration with the Morgan Library & Museum in New York, includes many works from private collections and those rarely exhibited. ( February 28 through May 31, 2020)
The Fine Arts Museums of San Francisco organized the first major exhibition, "Contemporary Muslim Fashions," which lands at the Smithsonian's Cooper Hewitt, Smithsonian Design Museum in New York City, to explore the complex worlds of Muslim dress codes across the globe. For those who cover and those who do not, the dress is much more diverse—and colorful—than some may think, reflecting the intersection of global fashion trends with local and regional styles. Among its high-end offerings from designers like Bernard Chandran and Wadha al Hajri are affordable designs from the London-based Sarah Elenany and sportswear such as the burkini. ( February 28 through August 23, 2020)
Among the exhibitions celebrating the 100th anniversary of the women's vote is one that highlights both the celebrated and the lesser known leaders in the struggle. On display at the National Museum of American History in "Creating Icons" are items from Alice Paul and the National Woman's Party and items donated more than a century ago by the National American Woman Suffrage Association—a group now known as the League of Women's Voters . They range from campaign buttons to Bella Abzug's famous hat. (March 6, 2020 through March 7, 2021)
The influential Prussian naturalist Alexander von Humboldt visited the young United States for just six weeks in 1804, but his discussions there with artists, cultural leaders and elected officials including President Thomas Jefferson left a lasting legacy in the young county as far as its relation to the environment. It's reflected in the work of painters from Albert Bierstadt and Karl Bodmer to Frederic Church and George Catlin. In all, more than 100 paintings, sculptures, maps and artifacts are included in the exhibition, "Alexander von Humboldt and the United States: Art, Nature, and Culture" at the Smithsonian American Art Museum . ( March 20 through August 16, 2020)
Anthony Rendon's first baseball card, Roberto Clemente's batting helmet and Pedro Martinez' jersey are among the more than 60 artifacts in the exhibition, Pleibol! In the Barrios and the Big Leagues , celebrating Latin contributions to the national pastime. "The story we tell shows how Latino communities played, celebrated and changed the game," says Margaret Salazar-Porzio, curator in the National Museum of American History's division of cultural and community life. A traveling version of the show is also being planned for 15 other cities. ( October 9, 2020 through October 2021.)
Tomioka Tessai was one of the first Japanese artists to have his works shown in the U.S. following World War II in a show organized by the Smithsonian Institution. Collector and museum founder Charles Lang Freer met the early 20th century painter three times while in Japan. Tessai's work reflects both traditions of ancient Asian art as well as touches of modernism associated with Impressionists. The first Tessai exhibition in 50 years, " Meeting Tessai " at the Smithsonian's Arthur M. Sackler Galler celebrates a significant gift of early modern Japanese paintings and calligraphy from a renowned collection. ( March 28 through August 2, 2020)
What has been the role of humans in the shaping and change in the world in which we live? An array of works by contemporary artists take up this question in a rare art show at the National Museum of Natural History that is also meant to inspire visitors to create their own visions for a shared future. (March 18, 2020 through April 11, 2021)
This reprise brings back one of the earliest Infinity Mirror Rooms that drew long lines of visitors in 2017 as well as the debut of the most recent rooms crafted by the hugely popular Japanese artist. Both are among the three new acquisitions to the Hirshhorn's collection of Yayoi Kusama 's work, which will also be on display at "One with Eternity," from early paintings to iconic sculptures like the polka-dotted Pumpkin of 2016. Owing to Kusama's draw, which doubled museum's average attendance to 1.2 million in 2017, free, same-day timed passes will be distributed throughout the run. ( April 4 through September 20, 2020)
The first major exhibition exploring the scope of the Saharan trade and shared history of West Africa, the Middle East, North Africa and Europe over five centuries centers on the element that fueled much of the action—gold. More than 250 artworks from a vast expanse were originally organized by the Block Museum at Northwestern University. Among them will be a number of unprecedented loans from partner institutions in Mali, Morocco and Nigeria, many of which will be seen for the first time at the Smithsonian's National Museum of African Art in "Caravans of Gold." (A pril 11, 2020 through November 29, 2020)
The rise of New York City as a world art capital in the early 20th century coincided with the literal rise of its mighty skyline. The energy of the metropolis in both fields fuels the Smithsonian American Art Museum's new exhibition "Steel and Sky: Views of New York City" of more than 50 prints and drawings chronicling the period, from artists that include John Sloan, Isabel Bishop, Peggy Bacon and William H. Johnson. ( May 8 through October 25, 2020)
More than 35 of the excess of 1,500 designs Suzie Zuzek, created for Key West Hand Print Fabrics, many of which were used by fashion brand Lilly Pulitzer, are included in the Cooper Hewitt's exhibition, "Suzie Zuzek for Lilly Pulitzer: The Prints That Made the Fashion Brand," which makes the case for how the prolific watercolor and gouache designs for the Key West Hand Print helped define the Pulitzer brand. The first exhibition of Zuzek, who died in 2011,"will tell the important story of a talented American designer who worked anonymously in support of a larger brand," says Cooper Hewitt director Caroline Baumann. ( May 15 through December 7, 2020)
The stories and pictures of a dozen historic and contemporary women inventors in "Picturing Women Inventors," by the Smithsonian's Lemelson Center at the National Museum of American History, will highlight their often unknown achievements. The exhibition will feature inventors from Kevlar inventor Stephanie Kwolek, and Folia Water filter creator Theresa Dankovich, to Patricia Bath, who made a cataract removal device in 1981 called the Laserphaco Probe. ( May 22, 2020 through June 14, 2021)
The splashy murals of illustrator Krystal Quiles will mark this survey of outspoken and inspiring young women from Helen Keller to young Washington D.C. activist Naomi Wadler . Divided into education, wellness, work and fashion, Girlhood! will be one of the longest running of the new 2020 exhibits—longer still when it tours the country as a part of the Smithsonian Institution Traveling Exhibition through 2025. ( June 12, 2020 through January 2, 2022)
Toni Morrison, Joyce Carol Oates, Anne Tyler, Alice Walker and Lorraine Hansberry are among the two dozen women writers celebrated in this exhibition that grew out of the Smithsonian American Women's History Initiative, Because of Her Story . Portraits of the authors, who have collectively won every literary award, are drawn from the Portrait Gallery's collection. ( July 10, 2020 through January 10, 2021)
The quartet of artists asked by the Smithsonian American Art Museum's Renwick Gallery to participate in the ninth invitational, "Forces of Nature," were asked to respond to "being human in a world increasingly chaotic and divorced from our physical landscape." Of the four, Lauren Fensterstock of Maine, creates installations; Timothy Horn of Provincetown, Massachusetts, works from the traditions of jewelry; Debora Moore of Seattle, devises glass representations of flowering trees; and Rowland Ricketts of Indiana, works in fabric. ( July 17, 2020 through February 7, 2021)
Born in Cherokee country, raised as a trick roper who succeeded first in vaudeville, then movies, newspaper writing, books and radio, Will Rogers became emblematic as a wise-cracking early 20th-century social commentator. While his statue continues to stand in the U.S. Capitol, a second Washington honor comes when he is honored with the latest One Life subject at the National Portrait Gallery , in an exhibition of painted portraits, sculpture, caricatures, movie paraphernalia photographs and film of the Oklahoman who said he has never met a man he didn't like. ( July 26, 2020 through May 16, 2021)
The rise of activist Chicano artists at a time of many social movements in the 1960s created an innovative printmaking tradition that continues today. The exhibition of more than 120 works from the Smithsonian American Art Museum's collection, ¡Printing the Revolution! , goes beyond prints to installations, augmented reality and digital art, with work from Rupert Garcia, Ester Hernández, David Avalos and René Castro, among others. ( September 11, 2020 through January 24, 2021)
Pacific Northwest soundscapes, music and projections accompany a major show at the National Museum of the American Indian by Tlingit glass artist Preston Singletary , who tells the tribal story of Raven and his transformation of the world by bringing light to people from the stars, moon and sun. Organized by the artist with the Museum of Glass in Tacoma, Washington, it's the latest multimedia show at the museum. ( October 9, 2020 through October 3, 2021)