Article continues below
Growing at a clip of more than 100,000 new residents a year, Canada's largest city keeps getting larger. But the continued population boom hasn't changed Toronto's character. Long known for welcoming multiculturalism and diversity (more than 140 languages are spoken here), the city has also made substantial investments in public transportation and technology, making the city even more attractive to newcomers and Silicon Valley talent.
However, it can take time to fully appreciate all that Toronto has to offer, say residents. "The city doesn't give up its secrets easily," said Alyssa James, Toronto native and travel blogger at Alyssa Writes . "I love Toronto because you really have to know it to love it."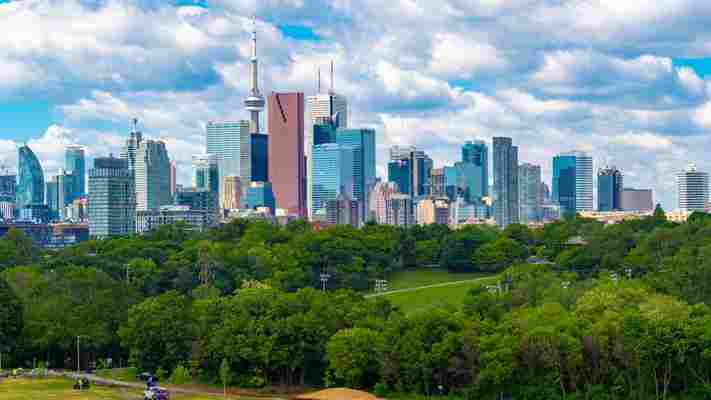 Toronto is growing by more than 100,000 new residents a year (Credit: Roberto Machado Noa/Getty Images)
Among those secrets are beaches right in the city's backyard. "People don't think of Toronto for waterfront or beaches because we aren't near an ocean, but we do have great lakes," said Bruce Poon Tip, who has lived in the city for 27 years and founded G Adventures . "The water is clean and the waterfront has been developed in a way that maximizes quality of living." The beaches, just 10km east of downtown, also host an internationally renowned jazz festival every July.
You may also like: – Asia's most multicultural city? – Africa's surprising city of opportunity – South America's most underrated city?
The city is also known for its wealth of parks and trails; one recent study by MIT found that the city ranks fourth in the world when measured for its tree canopy.
It's a hub of innovation and idealism and it's beautiful
"Toronto gives me big city benefits with small-town living," Poon Tip said. "It's clean, it's safe, it's secure, it's a hub of innovation and idealism and it's beautiful. But it's also extremely diverse in culture, people and ideas."
Where should you live?
A big part of Toronto's character comes through its many cultural neighbourhoods, which include Little India (6km east of the city centre), Little Italy (3km west), Portugal Village (3km south-west), Greektown (8km north-east), and Chinatown (2km west), the largest outside San Francisco.
"Diversity is huge in the city, especially when it comes to food. You can find every imaginable culture represented in some way in this city," said Matt Chong, originally from Vancouver and founder of Chong Tea Co . "In the same day, I can get a world-class Vietnamese banh mi or a delicious platter of Ethiopian injera covered with kitfo."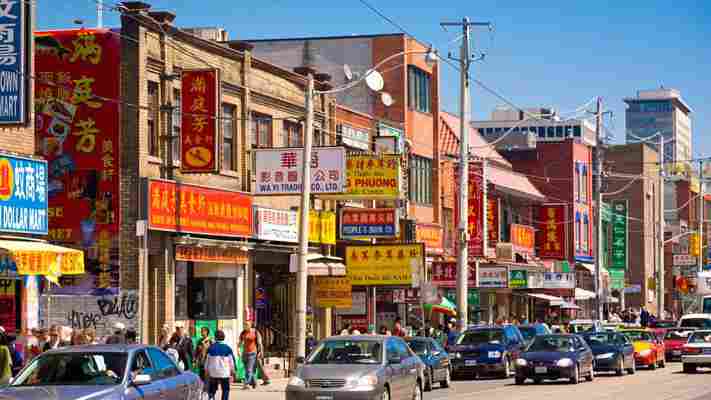 Toronto's Chinatown is the largest outside San Francisco (Credit: Robertharding / Alamy)
Kensington Market just north of Chinatown is a favourite among locals as one of the city's most multicultural and eclectic pockets, with lots of local businesses and a strong independent art scene. Queen West and West Queen West (both 3km west of the city centre) also offer lots for creative types "with tons of shops, galleries, cafes, restaurants and bars," said Chong, and was named one of 'the coolest neighbourhood in the world' by Vogue for its art hotels, independent fashion labels and contemporary art museum .
The city's east side is emerging quickly, with still-affordable neighbourhoods that are a mix of old homes and urban condos. The historic Distillery District (2.5km east of the city centre), the health-oriented Canary District (2.7km east), and up-and-coming Riverdale (4km north-east) are all favourite eastern neighbourhoods for young families.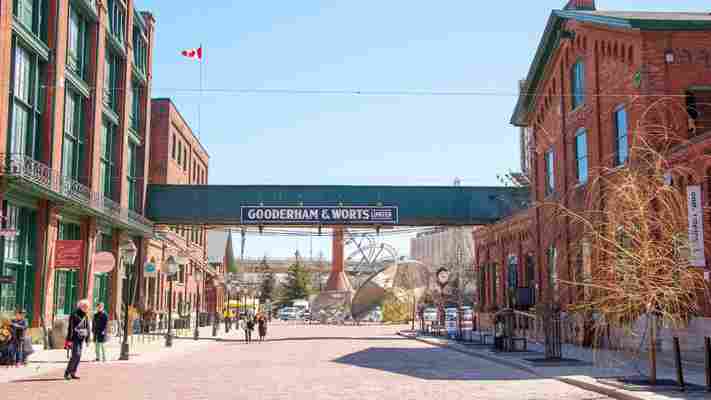 The Distillery District is a still-affordable neighbourhood with old homes and urban condos (Credit: Roberto Machado Noa/Getty Images)
Where can you travel?
Toronto Islands, just a 20-minute ferry ride from the city, are a favourite among locals for easy summer day trips with their boat rentals, bike trails and beaches."There is even a section where full-time residents live in cottages that were built as summer vacation homes at the turn of the century," said John Phillips, a local real-estate agent who shares local tips on his website . "This is an amazing area to explore."
Niagara Falls is just 128km south of Toronto, but outside of the touristy Falls themselves, and residents love exploring its nearby wineries. "One of my favourites is Redstone Winery , which has an incredible restaurant and wine list," Chong said.
Niagara Falls, 128km south of Toronto, is an easy getaway destination (Credit: Wolfgang Kaehler/Getty Images)
Prince Edward County (200km east of the city) is one of Ontario's best wine growing regions, and a quaint gateway stop on the way to the 1,000 Islands, an archipelago of closer to 1,800 islands within the St Lawrence River between the US and Canada (260km east of Toronto).
The Blue Mountain ski resort (160km north of Toronto) is also a favourite year-round destination for its skiing, Scandinavian Spa and summer activities like boating and bike riding.
Is it affordable?
While residents agree that the city is expensive compared to the rest of Canada, they also say it's still much more affordable than other big global cities. The 2017 Cost of Living Index by the Economist Intelligence Unit ranked Toronto at 86 of 133 cities, well behind New York, London and even Mexico City.
Toronto's beaches are just 10km east of downtown (Credit: CharlineXia Ontario Canada Collection / Alamy)
"When you take into account global currencies, like the British pound, you get tremendous value for your money – almost two for one," said Poon Tip. "I have friends from Europe, from the United States, from the UK, who fly in just to shop."
EDITOR'S NOTE: A previous version of this article incorrectly named Toronto Islands as well as the location of Toronto's Chinatown and the the 1,000 Islands. These errors have now been fixed.
Join over three million BBC Travel fans by liking us on Facebook , or follow us on Twitter and Instagram .
If you liked this story, sign up for the weekly bbc.com features newsletter called "If You Only Read 6 Things This Week". A handpicked selection of stories from BBC Future, Earth, Culture, Capital and Travel, delivered to your inbox every Friday.