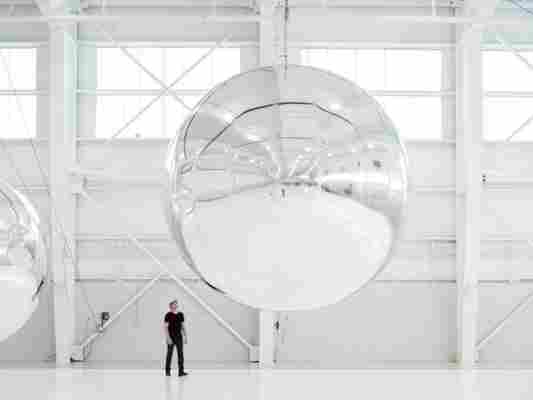 Trevor Paglen thinks of himself as working in the tradition of the landscape photographer.
So much so that a work by 19th century landscape photographer Timothy O'Sullivan is included in the mid-career survey "Trevor Paglen: Sites Unseen , " which opened recently at the Smithsonian American Art Museum in Washington, D.C.
In Paglen's DMSP 5B/F4 From Pyramid Lake Indian Reservation , he captures the same horizon O'Sullivan did in 1867. But in the nighttime grandeur, the viewer notes that amid the stars traveling in the same direction, one is forging an opposite course.
"I'm trying to understand what the landscape looks like now," Paglen says of today's night sky. And to do so, "I set up the photograph in such a way, I knew there was going to be a secret reconnaissance satellite moving through the frame of the photograph while I had the shutter of the camera open."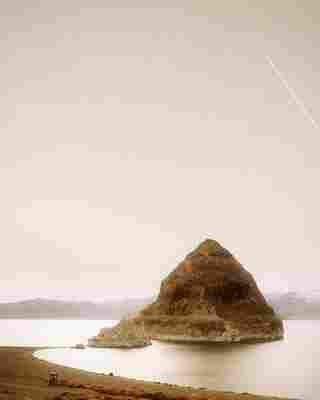 Paglen says he sees himself in the tradition of photographers such as O'Sullivan, who have captured the scene before, but with a twist. And in capturing the errant path of a spy satellite he's making another commentary on photography, there isn't just an update, he says, but a new dimension.
"This is a spy satellite taking pictures of the ground," he says, so in addition to taking a picture of the landscape, "in a way, the landscape is also taking a picture of me." He even inserts himself into the space landscape by designing satellites soon to be launched for no other reason than to briefly reflect back to Earth. Later this year, Paglen will launch his own for-art-only Orbital Reflector into outer space in collaboration with the Nevada Museum of Art.
O'Sullivan, like Eadweard Muybridge and other renown photographers of the late 19th century, did some of their work as survey photographers for the U.S. government, Paglen has pointed out. So they too, in their way, were reconnaissance photographers. Paglen offers this as an entry into the basis of his work, which he says is about the act of seeing.
"Who is seeing?" he asks. "What are the power dynamics of seeing? What are the politics of seeing? What are the histories of seeing that are always embedded in anything we turn our attention to?"
It all hints at the shadowy world of surveillance and subterfuge that lies close beneath the surface in much of his work and is seen in the shimmering desert views that hide military outposts or in overhead shots taken at spy sites like the National Security Agency campus in Fort Meade, Maryland. It's still a sort of landscape photography—but one that is attempting to glimpse a clandestine world.
John Jacob , the museum's curator for photography, says the images "show something we're not meant to see, whose concealment he regards as symptomatic of the historical moment that we inhabit."
"He opens our eyes to the world in which we live," says Stephanie Stebich , the museum's director. "In Washington D.C., these questions about the world which we have created are always relevant."
In addition to the photographs, though, there are other artifacts of Paglen's inquiries, the largest of which is a round inflatable Prototype for a Nonfunctional Satellite and a more angular prototype for the inflatable Orbital Reflector , the 100-foot-long satellite that he'll be launching this fall—a project that was funded by a $70,000 Kickstarter campaign last year in collaboration with the Nevada Museum of Art.
Paglen also presents an array of military patches from clandestine missions that he has collected, some of which depict aliens or the 'Spy vs. Spy' characters from Mad magazine. One wall has a list of the endless code names for secret operations that he has collected, from "Able Ally" to "Zodiac Beauchamp."
"You end up with this almost kind of found poetry," says Paglen, who divides the names into those collected pre- and post- Edward Snowden , the former contractor who leaked tens of thousands of classified files (Paglen contributed images to the Oscar-winning documentary about Snowden, CitizenFour ).
His photographs of hidden buildings , sometimes shot from a distance of 20 miles away, are on display, as is an image of the playful beach on Long Island , where underwater international internet cables converge. Space is a constant interest to him, whether it's the alleged UFO outpost of Area 51 he investigates, or messages left in the galaxy for other intelligent life.
Another aspect of the exhibition looks at the phenomenon of face recognition software —and how computers identify people and objects, and who has the power to control such systems.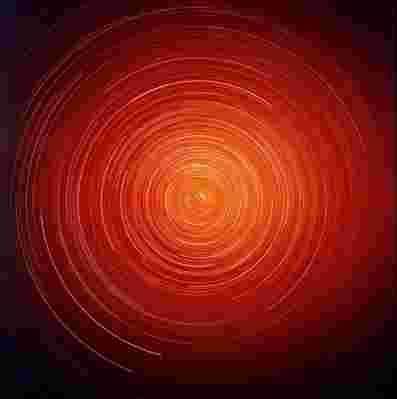 Many of the works can be appreciated simply for their visual splendor, such as the swirl of concentrate circles in his 2010 work STSS-1 and Two Unidentified Spacecraft Over Carson City (Space Tracking and Surveillance System, USA 205). But one grim corner is a model of a sculpture designed for the exclusion zone in Fukushima, site of the 2011 nuclear disaster. Trinity Cube , 2016, blends irradiated glass from the site with some of the sand that turned to glass when the U.S. exploded the first test nuclear bomb in New Mexico in 1945.
"This is an artist's proof," he says in pointing out the box, adding with assurance, "it is not radioactive."
Born in Camp Springs, Maryland, and now living in Berlin, Paglen has a master's degree in fine art from the Art Institute of Chicago and a doctorate in geography from the University of California Berkeley.
A 2017 MacArthur Foundation "genius" grant recipient, Paglen has turned his research into five books about black-ops sites, state secrecy and military symbology. Among them is the 2009 Blank Spots on the Map: The Dark Geography of the Pentagon's Secret World.
Despite acclaim for the books, Paglen says his work is chiefly focused on art. "As the world gets more and more complicated, you have to do a lot of research to put yourself in the position to see something if you're able to see it," he says.
Such as that spy satellite in his Pyramid Lake photograph. "Some of that work you do can look journalistic, or it can look academic, or it can look more gonzo than that," he says. "But that's where it comes from."
Throughout, says Jacob, Paglen is "carrying on the museum's long record of critically examining America's changing relation to its landscape in embracing the timely topics of privacy and surveillance."
Further, Jacob says "it also responds to Secretary David Skorton's vision for the Smithsonian Institution as "a catalyst for convening a national conversation about the critical ideas of the day."
"Trevor Paglen: Sites Unseen," curated by John Jacob, continues at the Smithsonian American Art Museum in Washington, D.C. through January 6, 2019. It is scheduled to travel to The San Diego Museum of Contemporary Art Feb. 21-June 2, 2019.