Andrea Bunar has one of Germany's most unusual jobs.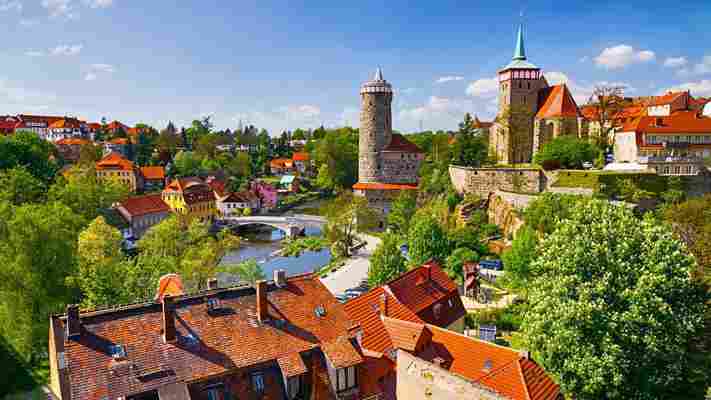 Nearly every day between April and October, Bunar hops on a 9m-long boat and peacefully navigates through a labyrinth of small waterways to deliver letters to around 65 homes that are otherwise very difficult to reach.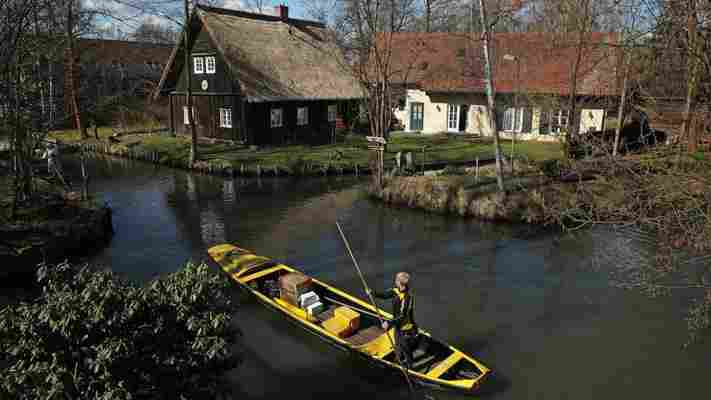 The post has been delivered by a gondola-like boat for the past 124 years in the Spreewald (Credit: Sean Gallup/Getty Images)
Bunar is the local postwoman in Lehde, a quiet 150-person village of marshy islands connected by footbridges, nestled in the lush Unesco biosphere reserve of the Spreewald . Located about 100km south-east of Berlin, this vast 47,500-hectare mosaic of meadows, forests and canals has few roads, boasts many hiking trails and is popular among tourists who want to escape the bustle of the German capital.
Meaning "forest on the Spree river", the Spreewald is home to more than 250km of navigable channels and organic farms, many of which produce the region's most famous product: the Spreewald gherkin. Once proclaimed as " possibly the best in the world" by The Guardian, these sweet-and-salty EU-protected cucumbers are harvested in July and August and then sold from small wooden stalls lining a 260km bike path named after the region's star pickle.
The Spreewald is home to more than 250km of navigable channels and organic farms
Bunar enjoys the calm that comes with her job, and she knows the area's wilderness and wetlands well. Every week, she delivers about 650 letters and small packages around Lehde – and sometimes she has to carry more than just parcels. She has transported apple trees, lawn mowers and flat-screen TVs on her gondola-type barge, deftly manoeuvring it through the narrow channels with a 4m-long pole.
The Spreewald's sleepy waterways have always been its lifeline, with wooden boats called Kahns plying the region's tangle of streams to transport cattle, crops and people for more than 1,000 years. Today, most farms own a small boat and an equally small dock, and for the past 124 years these canals have also been used to deliver mail.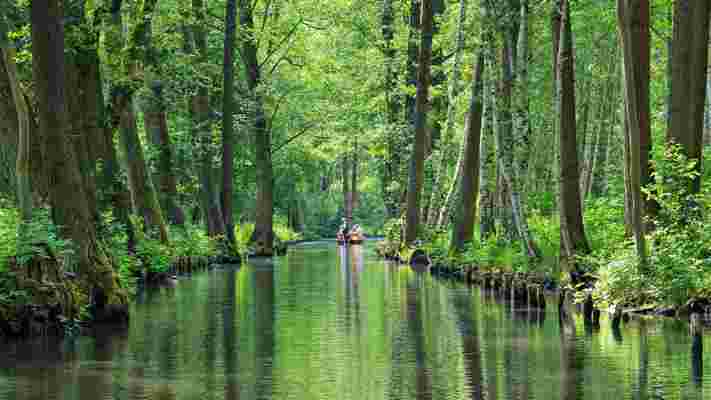 The Spreewald is a Unesco biosphere spanning 47,500-hectares of meadows, forests and canals with few roads (Credit: LianeM/Getty Images)
"It's nice when old traditions like these are carried on and revived," said Bunar, before heading out to deliver the day's post, which she has done for the past 10 years. "That absolutely enriches village life."
But although Bunar, who has lived near the Spreewald for most of her life, often chats in German with locals and tourists alike, she regrets that she doesn't speak the region's second language, which forms an important part of its unique identity. That's because, in addition to sheltering 6,000 species of animals and plants, the Spreewald is also home to the Sorbs: the world's smallest Slavic ethnic group and one of Germany's four nationally recognised minorities, alongside Danes, Frisians and the German Sinti and Roma.
The Sorbs are descendants of Slavic tribes who lived north of the Carpathian Mountains in Central and Eastern Europe. Around 1,500 years ago, some of these tribes migrated to Lusatia, a historical region sometimes called Sorbia that straddled eastern Germany, western Poland and the northern tip of the Czech Republic. Over time, European empires and nations have come and gone, but the Sorbs have remained – a Slavic-speaking ethnic minority existing inside modern-day Germany.
The Sorbs are a Slavic ethnic minority that have lived in modern-day Germany for roughly 1,500 years (Credit: Sean Galliup/Getty Images)
Today there are an estimated 60,000 Sorbs in Germany. A third live in the state of Brandenburg, where the Spreewald is located, and the rest live further south, in Saxony.
In addition to German, Sorbs speak their own West Slavic languages: about 20,000 people in Saxony speak Upper Sorbian (which has similarities to Czech); while Brandenburg has around 5,000 speakers of Lower Sorbian (which has more in common with Polish). Both languages are endangered, and are protected and promoted locally.
In addition to German, Sorbs speak their own West Slavic languages
This means that as visitors slowly paddle through the Spreewald's tranquil canals in their hired punts or kayaks , they're likely to notice that public signs are bilingual. Lehde, for instance, is Lědy in Lower Sorbian. And if you ask locals, many will write their names and titles in both German and Sorbian.
"For many people, the language is incredibly important, it's the main way of identifying with the Sorbs in general," said Fabian Kaulfürst, a language expert at the Sorbian Institute , a research facility that specialises in Sorbian history and culture, located in the town of Bautzen , or Budyšin in Upper Sorbian – which is commonly known as the Sorbs' spiritual and political heart today.
The town of Bautzen is one of the major hubs of Sorbian culture (Credit: irakite/Getty Images)
I met Kaulfürst in his garden in the small Saxon village of Panschwitz-Kuckau, or Pančicy-Kukow, one of a cluster of five villages near Bautzen that is commonly described as the Sorbs' stronghold, located about 100km south of Lehde. Here, as Kaulfürst explained, Sorbian is not only spoken by older generations, but is also an everyday language used in supermarkets and among the region's 7,000 inhabitants. It's common to hear people greeting each other with the informal " Witaj " instead of the German " Hallo ".
"We're still lucky here that there are people who feel this is a normal language of communication and don't have to think about it too much, but simply speak it off the cuff," he said.
You may also be interested in: • What makes Germans so orderly? • The Swiss language that few know • Europe's language that few speak
One of the reasons Sorbs have been able to preserve their culture and language is that this sparsely populated, strongly Catholic community is surrounded by fields and hills and is difficult to reach by public transport. It's only about 50km from Dresden, Saxony's capital, but it feels like a world away.
This uniqueness is also felt in the village of Crostwitz, known locally as Chrósćicy. Here, around 90% of residents are Sorbian, and councillors speak primarily in Upper Sorbian during their monthly political meetings. Official documents are printed in both languages.
In Crostwitz (or Chrósćicy), roughly 90% of residents are Sorbian (Credit: Thomas Sparrow)
"This is common here; that's why it's important," said Marko Klimann, Crostwitz's mayor and a Sorb himself. "This was not something that was somehow artificially created and now we are trying to keep alive. This is everyday life. This is everyday language," he said.
To keep it that way, Sorbs are focussing on the future generations. Around 5,000 pupils are learning Sorbian in 41 primary schools, as well as in a dozen secondary schools. And according to Katharina Jurk, the head of the Sorbian School Association , all 60 students in the local primary school in Crostwitz learn Sorbian as their mother tongue and German as a second language.
There are certainly big challenges, such as finding teachers. But, Jurk stressed, young families are placing increasing importance on passing on not only the language, but other Sorbian traditions to younger generations.
Across the region, thousands of children speak Sorbian as their first language (Credit: Sean Gallup/Getty Images)
That's because, throughout German history the Sorbs have managed to preserve a rich cultural heritage all their own. They are well known across the nation for their masterfully crafted Easter eggs, which families patiently decorate and colour each year in March and April. They also cherish their carnival customs , in which they repel evil spirits and bid farewell to the cold months of the year. Bunar said this is one of the Sorbian traditions she particularly likes to practice with her children in the Spreewald.
"We walk for a day through the village," she explained. "We collect eggs, bacon and money and then, a week later, we dress up in our traditional costumes and then the winter is driven out and we celebrate spring."
Bunar said it's important for her to contribute so that these traditions can be kept alive, "just like delivering the post by barge".
Over time, countries have come and gone, but the Sorbs have remained in the Spreewald (Credit: Johannes Eisele/Getty Images)
It's a delivery that's marked by the "absolute tranquillity" she often feels on the water. During her 8km route, she rhythmically paddles from one farm to the next in a region of unspoilt nature and ancient traditions that she's lucky enough to call home.
"It's really, uniquely beautiful," she said.
Join more than three million BBC Travel fans by liking us on Facebook , or follow us on Twitter and Instagram .
If you liked this story, sign up for the weekly bbc.com features newsletter called "The Essential List". A handpicked selection of stories from BBC Future, Culture, Worklife and Travel, delivered to your inbox every Friday.