One of the top-trending foods in India through the pandemic has been khoba roti , a beautiful rustic bread from the north-western state of Rajasthan. Crafted from wheat flour, salt, chilli flakes and carom seeds, the unleavened flatbread with intricate patterns and ghee-filled indentations has catapulted to fame through a spontaneous social media trend.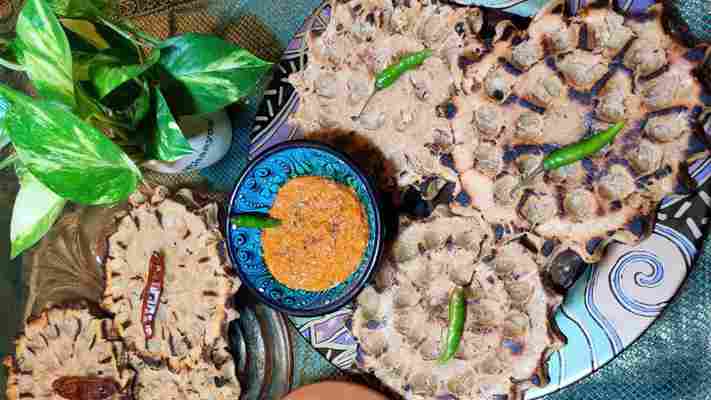 Who can deny that the bread is eminently Instagram-able?
Passionate foodies have been Instagramming photos of khoba roti . Home cooks are testing their culinary skills by making this oversize bread, which can measure from 15-20cm across and half a centimetre in thickness. Michelin-starred chef Vikas Khanna jumped onto the bread wagon by conducting online tutorials on how to make khoba, while other leading Indian chefs such as Ranveer Brar and Ajay Chopra have also been posting recipes and videos about the bread and its accompaniments.
India boasts of a smorgasbord of delicious traditional flatbreads that underscore its rich diversity and cultural and culinary syncretism. From Kashmir's czho to Bihar's sattu roti , Kerala's layered parotta to Maharashtra's bhakri , breads are an intrinsic part of home-cooked meals ­– deceptive in their simplicity, but demanding rigour in balancing textures and flavours.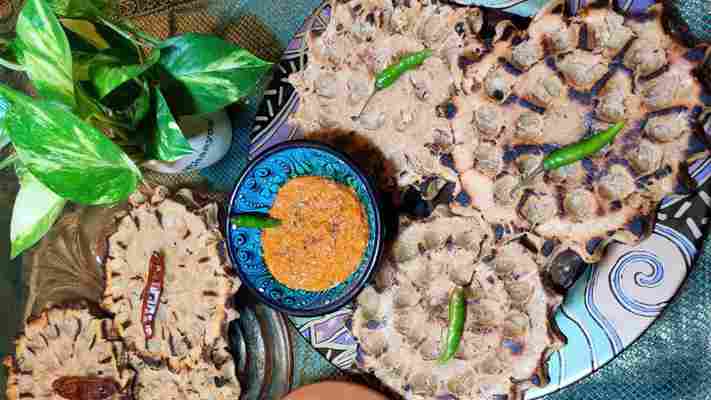 Khoba roti is made from wheat flour, salt, chilli flakes and carom seeds (Credit: Neeta Lal)
Currently though it is khoba – also known as kobha , roth , rotla , angarkadi , jadi roti or even biscuit roti due to its crumbly texture – that has caught everyone's fancy.
"I've tried my hands at making most Indian breads – naan, chapati, parottas or puris – but I loved making khoba most because it allowed me a lot of creative freedom," said Neha Dutta, an IT executive from Bangalore who is a keen home baker. "I could use any flour, make any design with thumbs, tweezers or even chimta (Indian tongs). Its accompaniments can also vary from humble pickles to rich non-veg dishes. I paired mine with panchmel dal (a mix of five lentils) and garlic chutney, and the compliments haven't stopped pouring in."
You may also be interested in: • How the West got turmeric wrong • Why San Francisco does sourdough best • The Indian burger McDonalds can't master
Vini Mehta, a chartered accountant and a passionate home cook, says she first tried the bread at her friend's place, and it was love at first sight. "I was so blown away by khoba's looks that I rushed into her kitchen to see how it was made," she told me. "The process was even more fascinating. Making the indents, pouring ghee into them till the bread acquired a glistening, gossamer gold, crater-filled surface, was a magical process. I couldn't wait to replicate the experience in my own kitchen the very next day."
According to Abhilasha Jain who runs Marwadi Khana , a catering business that specialises in Rajasthani vegetarian cuisine, the word "khoba" literally means cavity or depression. "When the bread is put on the tawa (cast-iron griddle), deep cavities are made with the thumb into which is poured lots of ghee. The bread is cooked on [a] low flame till it is crisp and also to ensure it doesn't remain raw on the inside. You can cook it on gas or tandoor, but I prefer koyla sigri (wood charcoal fire), which leaves pretty grill marks on it and also gives it a smoky flavour."
According to Jain, the geometrical designs aren't just aesthetic; they help khoba cook evenly while also facilitating the absorption of ghee into the dough, making it tastier and easier to chew. "I've been inundated by orders for this bread and it is currently one of my top-selling items," she said.
But what explains the bread's current popularity? According to cookbook author Nita Mehta, who has penned more than 600 cookbooks, including several on Indian breads, the pandemic-induced work-from-home culture is encouraging experimentation in Indian kitchens. Families are cooking together, trying new recipes, eating at home and enjoying sharing their culinary creations online.
"Though khoba has been around for centuries, the younger generation's curiosity has created an explosion of interest in it," Mehta said. "Besides, the bread's wholesomeness makes it appealing to the fitness-conscious millennials. They are incorporating healthier flours like millets, sorghum and corn into the traditional recipe thus augmenting its health quotient. Plus, who can deny that the bread is eminently Instagram-able?"
Khoba's provenance can be traced to the villages around Jodhpur in Rajasthan and the lifestyle of its people. Also known as the "Land of Maharajas" because of the numerous Rajput kings who ruled the state for centuries, Rajasthan has a long history of wars and hunting.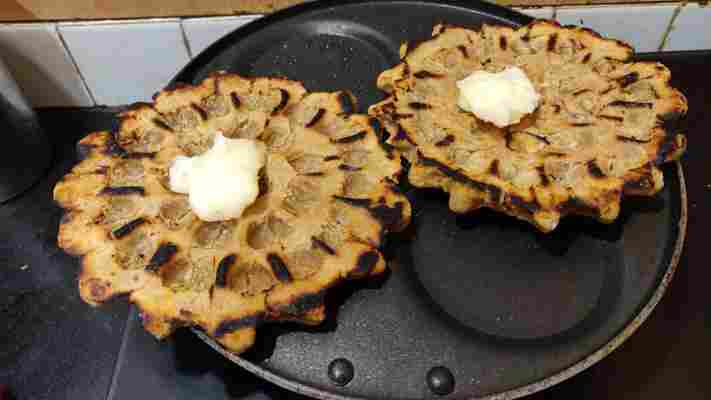 Though chulhas (clay or brick ovens) bring out the best flavour, urban cooks use gas stoves to craft khoba (Credit: Neeta Lal)
Rajput kings travelled to faraway lands with big armies to fight battles, explained Ashwani Kumar Singh, executive sous chef at Leela Ambience Convention Hotel , New Delhi. "This peripatetic culture required a hardy bread that could travel well. Rajput soldiers would thus carry khoba roti, which could be eaten with minimal fuss with pickles or onions without plates or cutlery," he said, explaining that it was thicker and hardier than other rotis and didn't spoil because ghee and salt acted as preservatives. "Khoba was also popular among Rajasthan's nomadic tribes who traversed the hot desert on foot with their families and camels in large caravans."
Khoba roti's traditional accompaniments are as interesting as the bread itself
Rajasthan's Marwari community (traditionally traders) also preferred to carry khoba roti on their trips. Their community includes Jains, who, as staunch believers in non-violence, follow a pure vegetarian diet that shuns meat and even root vegetables, tubers and rhizomes. They are often wary of eating outside the home due to their religious restrictions, and khoba roti could be easily carried and eaten without any accompaniments. So popular is the bread within the Jain community that they even have a festival, Roth Teej, named after it. "On this day, we are supposed to eat bread made from only one type of grain ( roth ), once during the day. So, we make wheat khoba on this day," said Singh. "The festival reinforces the belief that material wealth doesn't last, and only renunciation can lead to true happiness."
Rajasthan, referred to as the Great Indian Desert or Thar Desert, is known for its harsh weather and temperatures that often soar beyond 50C in summer. The physiological demands this puts on the human body have long determined the agricultural practices and dietary habits of its people.
Rajasthan's Thar Desert is known for its harsh weather and high temperatures (Credit: Art Wolfe/Getty Images)
Indigenous dried vegetables, papads (savoury flour pancakes) and wadis (dry lentil dumplings) with their long shelf life are incorporated into local dishes. Instead of water, a scarce commodity, dairy products such as milk, buttermilk and ghee are prolifically used, which also help camouflage the shortcomings of a quintessentially vegetable-deficient Rajasthani meal, explained Jain.
I loved making khoba most because it allowed me a lot of creative freedom
Khoba roti's traditional accompaniments are as interesting as the bread itself. They cover a gamut from fiery laal ma as (mutton curry) to rabori ki sabji (a curry made from buttermilk and cornflour) to gatta curry (gram flour dumplings in gravy). The bread is also often served with a side of lentils, kadhi (gram flour slurry), vegetables and chutneys. Another popular accompaniment is panch kuta , featuring five wild, desert-specific, foraged ingredients – ker , sangri , amchur , gunda and kumati – that are harvested, dried and then stored for harsh weather when nothing grows.
Singh explains that though modern cooks often use gas stoves to make khoba, it is traditionally cooked in chulhas , clay or brick ovens fired with cow dung pies or charcoal. "Cooking it the traditional way amplifies its flavour manifold," he said. "Interestingly, unlike other Indian homemade breads typically made only by the women of the house, khoba is also made by Rajasthani men and is thus a great social leveller."
The key to making a great khoba though, sums up Jain, is to never skimp on ghee. "'The more the ghee, the tastier the bread' goes the saying in Rajasthan," she said. "Ghee is the ultimate expression of the cook's love, not to mention the fact that it makes an already great bread taste heavenly!"
The bread can be paired with a variety of dishes, including kadhi and dal (Credit: Neeta Lal)
Khoba roti recipe By Abhilasha Jain
Ingredients: 1 c whole wheat flour less than ½ c warm water ½ tsp carom seeds (optional) 2½ tbsp ghee Salt to taste
Method: 1. Mix together flour, ghee, salt and carom seeds. 2. Add warm water and knead into a tight dough. 3. Let the dough rest for half an hour, then knead it again to make it more pliable. 4. Divide the dough into two equal balls. 5. Take one ball, flatten it and roll it into a big circle to a thickness of 0.5cm. 6. Heat a tawa to medium-hot. 7. Put the roti on the tawa and flip after 15-20 seconds, keeping the flame low. 8. Start pinching the roti. Begin either from the centre or from the sides, and keep making patterns over the entire roti. This procedure will take about a minute or so. In that time the roti will be almost cooked from the other side. 9. Now flip the roti and let it cook for another couple of minutes. 10. Remove the roti from the tawa and cook it in a preheated oven for a few minutes until it turns golden brown. Now take it out and put it on a direct flame on low to char slightly. Cook evenly from both sides. 11. Pour ghee into the cavities made by pinching the dough. Serve hot with dal, vegetables or gatta curry.
EDITOR'S NOTE: A previous version of this article incorrectly noted that Rajasthan's Marwari community is mostly comprised of Jains. This has now been updated.
BBC Travel's Culinary Roots at Home series looks to trending recipes and traces their origins, offering the story behind the dish as well as easy tips on how to make them.
Join more than three million BBC Travel fans by liking us on Facebook , or follow us on Twitter and Instagram .
If you liked this story, sign up for the weekly bbc.com features newsletter called "The Essential List". A handpicked selection of stories from BBC Future, Culture, Worklife and Travel, delivered to your inbox every Friday.